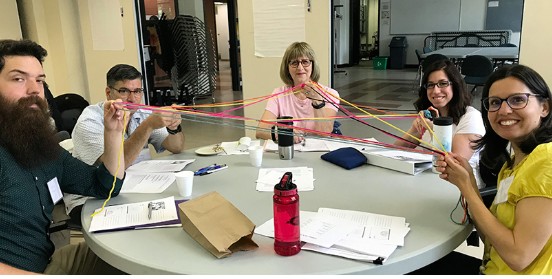 Université de Trois-Rivière's (UQTR) Centre d'apprentissage Santé et Rétablissement is currently implementing a project called Recovery College, an Anglo-Saxon peer support model for mental health patients. For this project, the CEPPP is co-developing the training curriculum designed to train the trainers.
Recovery College is an educational-based approach that focuses on helping people recognize and develop their own resourcefulness and awareness in order to support themselves or their loved one's recovery journey. All of our courses are developed and delivered in partnership with peer supporters who are experts by experience: they have their own story of a mental health or substance use concern, or are supporting a loved one.
For this project, the CEPPP provides the following services:
Train patient-professional pairs to become trainers and engage in awareness activities with mental health patients; Co-develop a training curriculum for Recovery College; Collaborate to train the Recovery College trainers for every cohort.